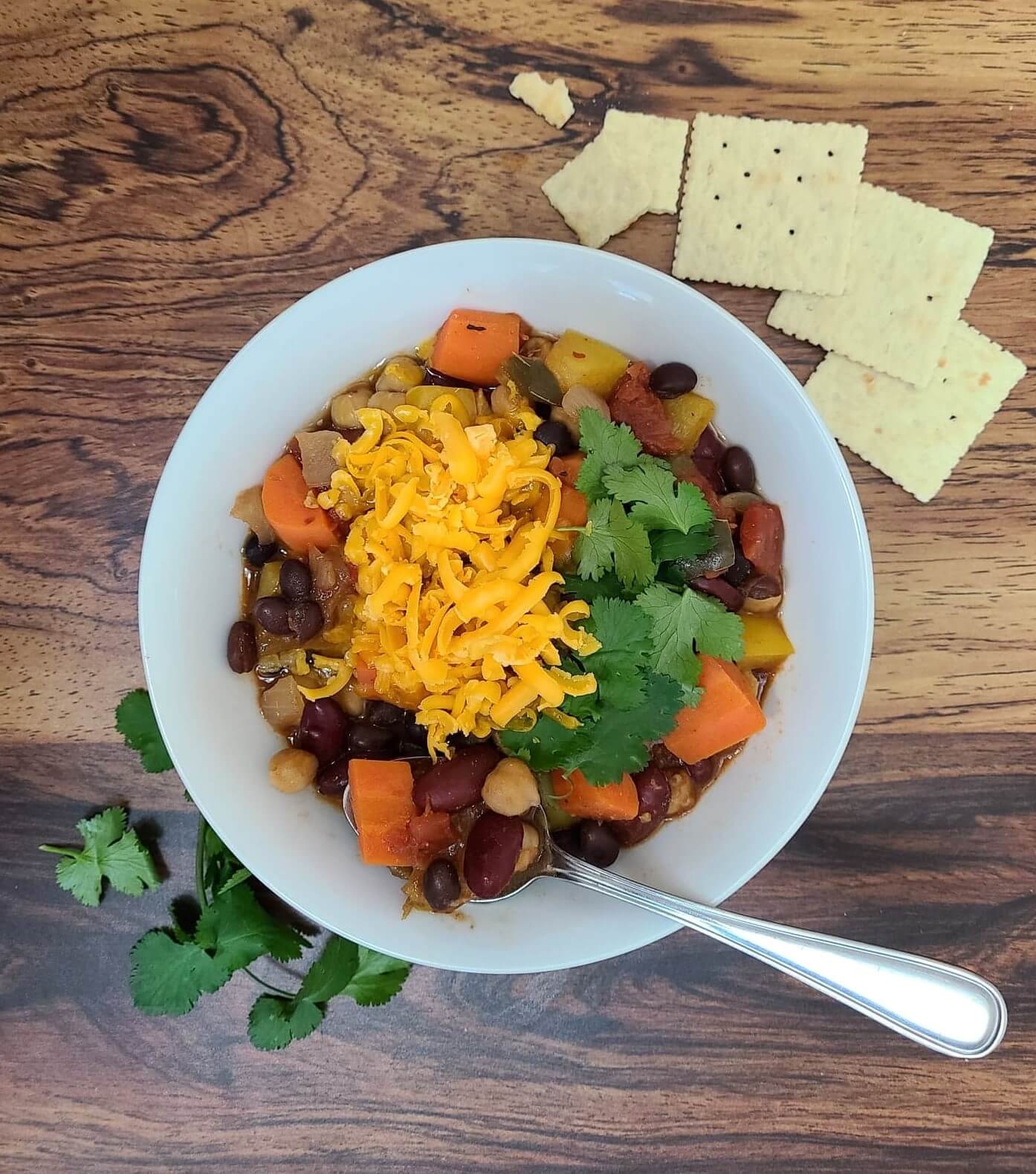 Three-Bean Vegan Chili Recipe
Prep Time: 15 minutes Cook Time: 35 minutes Total Time: 50 minutes
Number of servings: 6 servings (1 serving ≈ 1¼ cups)
Vegan meals built on plant-based proteins are healthy for the body and the environment. This chile is completely customizable. The recipe has a mix of different kinds of beans and colorful vegetables with a ton of flavors; you can alternate the choice of beans, vegetables and spices with others, but try to keep a variety of colours and textures.
Ingredients:
2 tbsp olive oil
1 small onion, chopped
2 carrots, diced
1 yellow bell pepper, diced
1 clove garlic, minced
1 jalapeño pepper, seeded and minced
1½ tbsp chili powder
2 tsp ground cumin
1½ tsp dried oregano
½ tsp salt
1 cup water
1 can diced tomatoes (not drained)
1 can black beans, drained and rinsed
1 can red kidney beans, drained and rinsed
1 can garbanzo bean (chickpea), drained and rinsed
Garnish:
1 cup fresh cilantro leaves
2 cups Daiya cheese, shredded (dairy free "cheese")
Crackers
Directions:
In a large saucepan, heat olive oil at medium-low heat and add onions, carrots, yellow bell peppers, garlic, and jalapeño pepper to sauté. Cook for about 5-10 minutes or until the onions and carrots are tender.
Add chili powder, cumin, and oregano, and stir to combine.
Add canned tomatoes, water, beans, and salt. Bring to boil. Once boiling, reduce heat and let the mixture simmer uncovered for 30 minutes.
Serve garnished with cilantro leaves, Daiya cheese, and/or crackers.