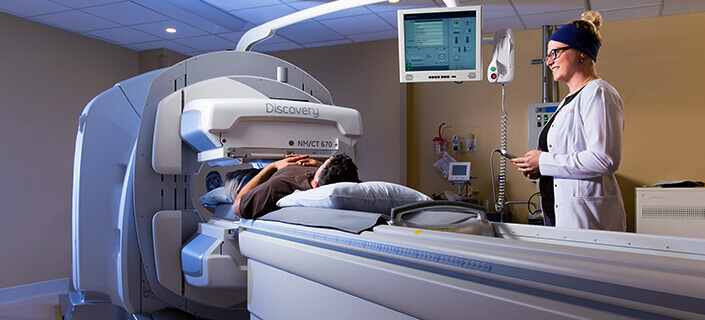 Allied Health
Diagnostic Imaging
Diagnostic services is a Shared Health clinical service that aims to provide all Manitobans, no matter where they live, with high quality laboratory and imaging tests as well as non-invasive cardiac testing.
Shared Health is proud to provide the results upon which doctors make their diagnoses and base their treatment decisions.
Clinical Nutrition Services
Registered Dietitians are experts in nutrition. Dietitians are part of your health care team, since nutrition plays an important role in one's recovery from illness or injury. Clinical dietitians in hospitals assess patients' nutrition needs and make nutrition care plans. Care plans may involve providing optimal nutrition care during one's hospital stay, educating patients that require a special diet or coordinating nutrition care once they leave the hospital.
Patients are screened for nutrition risk after being admitted to hospital. Those patients that are screened at nutritional risk will be assessed by a dietitian. Health care staff may also consult a dietitian at any time. Patients and families can also request to see a dietitian.
For more information about WRHA Nutrition and Food Services visit the website at http://www.wrha.mb.ca/prog/nutrition/
Laboratory Services
The Victoria General Hospital Laboratories provides a full range of services including Biochemistry, Hematology, Microbiology, as well as Surgical Pathology, Autopsy Pathology and Cytology services. It is an integral part of the Winnipeg Regional Health Authorities Laboratory medicine program and through the WRHA network of Laboratories and Cadham provincial laboratory all specialized Pathology services are available.
At the current time it is staffed by two pathologists, consultant Oncologist/Hematologists, a consultant biochemist, a consultant microbiologist, a laboratory manager and 25 technologists, technicians and other staff. In 2002 the laboratory handled 9227 surgical specimens, 624 non-gynecological cytology specimens as well as 356,000 chemistry tests, 45,800 CBC's and 17,595 microbiology specimens.
Occupational Therapy
At Victoria General Hospital, the role of a social worker is multifaceted as we strive to meet the psychosocial needs of our patients and their families. We assist patients and families with: adjustment to health problems, including disability and loss (e.g. death and bereavement, vocational & educational issues, and financial concerns); psycho/social/emotional problems (e.g. mental health concerns, domestic violence, stress, loneliness, marital problems, and parental issues); access to resources (e.g. housing alternative, financial resources, referral to alternative care facilities, and external social service agencies); discharge planning and case management; and advocacy and negotiation of the health care system.
Social work appreciates the value of collaborative care in healthcare as we work with multiple health care providers from different professions to provide comprehensive services to our patients and families. As registered social workers, we are registered with the Manitoba College of Social Workers and adhere to their Social Work Code of Ethics.
Social Work services are provided 7 days a week from 8:00 – 4:15. Full services are provided Monday – Friday, with limited service on week-ends and statutory holidays in Urgent Care only.
Physiotherapy
The primary role of Physiotherapy is in the preservation, development and restoration of maximum physical function.
Physiotherapists are integral members of the interdisciplinary teams who assess, treat and provide education for patients that have a variety of acute and chronic conditions.
Rehab Assistants also play an integral part in the treatment of patients. Under the guidance of the physiotherapists they work directly with the patients supporting them in both mobility and function.
The physiotherapists work with clients having cardiovascular (CHF), pulmonary (pneumonia, COPD), neuromuscular (stroke), and orthopedic (fractures) diagnoses. The physiotherapists at Victoria Hospital primarily work on the Subacute Medicine and Geriatric Rehabilitation wards.
Physiotherapy services are provided 7 days a week from 8:00 – 4:15. Full services are provided Monday – Friday, with limited service on week-ends and statutory holidays.
Respiratory Therapy
Respiratory Therapists at the Victoria Hospital are essential members of the healthcare team, working together to assist people experiencing breathing problems.
Respiratory Therapists assume a variety of roles, including a key role in the care and management of patients required to be on mechanical ventilators. Respiratory Therapists are an integral member of the "Code Blue" team working in acute medical situations. At the other end of spectrum Respiratory Therapists work closely with the Home Oxygen Program to provide a smooth transition for patient requiring oxygen at home after discharge from the Victoria Hospital.
Other specialized duties include obtaining and analyzing arterial blood gas samples, performing pulmonary function testing, and educating patients about their conditions and self-management techniques.
Social Work
The role of Social Work is multifaceted and complex as we strive to meet the psychosocial needs of primarily the patients, and secondarily the families of the patients at Victoria General Hospital. As a team we work with patients on: safe disposition planning for home or transitioning from home to alternate levels of long term care; addictions; mental health; safety to self; violence within relationships; supportive and grief counseling; advocacy; family support; assisting in navigating systems; educating on issues such as Enduring Power of Attorney, Health Care Directive, Last Will and Testament
The Social Work Team at Victoria General Hospital is part of the Allied Health Practice Team that facilitates the best care possible as an interdisciplinary team. We value that all aspects of the self (emotional, physical, mental and spiritual) are an important part of healing.
Social Work is a professional and academic discipline that is guided by a Code of Ethics. The Social Work Team is registered with a regulatory body, The Manitoba Association of Social Workers and our practice is guided by a Code of Ethics for the Canadian Association of Social Worker.
The Social Work Team provides professional care with compassion within the mandate and vision of Victoria General Hospital.