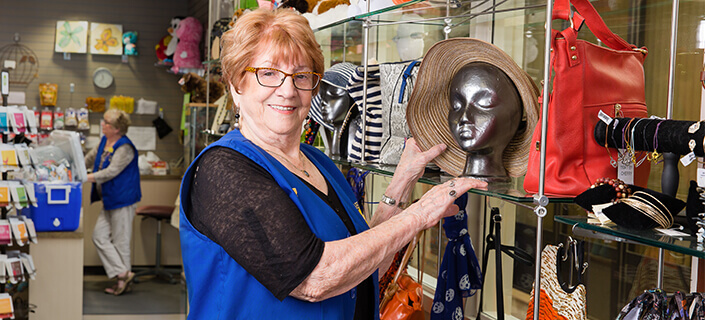 Volunteers
The Victoria Hospital has a strong, vibrant volunteer community, who help our hospital by sharing their time, talents and life experiences to enrich the lives of our patients and visitors. Volunteers have played an integral role in the hospital since its inception more than 100 years ago and are very involved in all areas of the Hospital.
At the Vic, we have over 350 active volunteers who contribute over 30,000 hours of service every year. Through their contributions they are able to provide that extra bit of attention to our patients which enables employees to concentrate on the work for which they are trained and to foster good relations between the hospital and the public it serves.
All adult volunteers at Victoria Hospital are members of the Guild of Victoria Hospital. The Guild has been in operation since 1954 and they are committed to enhancing healthcare services delivered by the Hospital. The Guild operates the Gift Shop and hosts several events including a monthly Book Sale, Cookie Walk, Monthly draws and Bi-annual Educational luncheons.
Are you interested in getting involved? We offer a wide variety of volunteer opportunities. Volunteers escort patients throughout the hospital, provide friendly visits to patients, deliver reading materials and flowers to inpatient units, and work in retail and food services. Volunteer positions are available 7 days a week, in morning, afternoon and evening shifts.