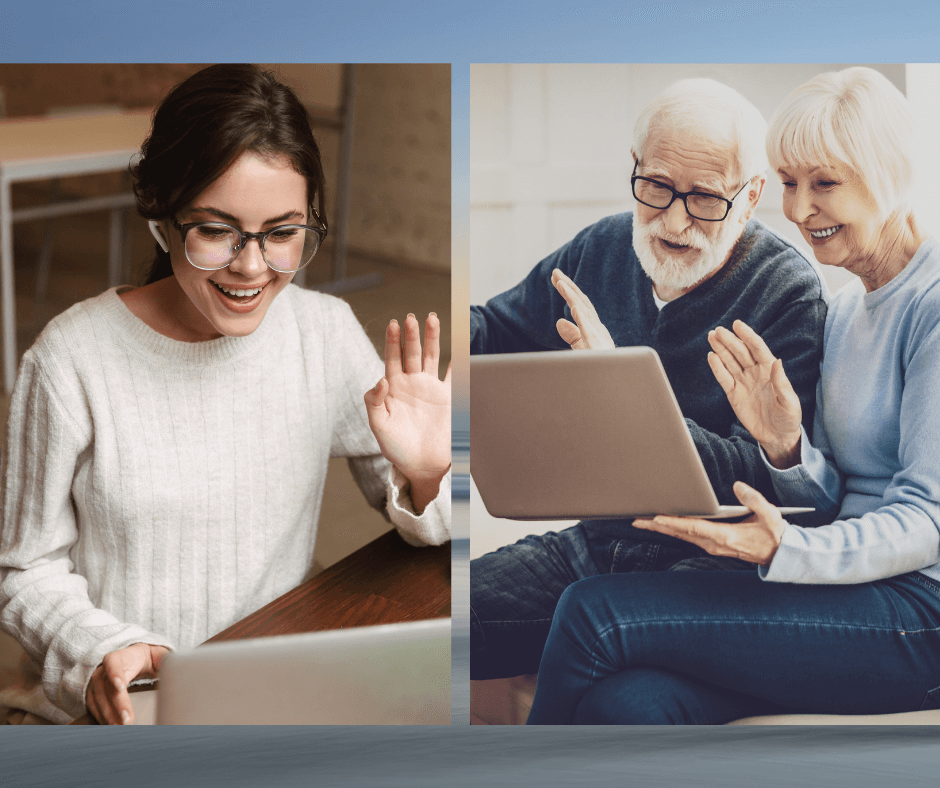 Staying Connected While Staying Apart
Ronalyn Rollon and Jack Tyrrell
VGH Volunteers
The lockdowns and physical distancing requirements created by COVID-19 are very challenging. How can we keep our distance without being lonely? How do we prevent boredom, frustration, anxiety, and depression? We've collected some ideas designed to help.
First, connect with yourself:
Checking in with yourself is a great place to start.
Assess your current mindset
Check in with yourself to see how you are feeling. Are you feeling irritable, tired, or angry? It is OK not to be OK. Honestly assessing your feelings will help you choose your best coping strategies and it alerts you if it is time to reach out for mental health assistance.
It is important to stay informed, but constant exposure to the news can cause a negative impact on your mental health. "Seek information from reliable news sources only. Limit checking the latest news to short, defined periods, and refrain from setting news-related push notifications on your electronic devices. Appropriate information consumption may be calming and can lessen the sense of danger."(Mental Health Resources to Support During COVID-19, 2020)
An organized schedule can create a sense of order and control. Try to plan out your day with regular wake up times, daily activities such as work, meals, exercise, and enjoyable distractions, followed by a regular bedtime.
Maintain a healthy lifestyle
Staying at home may have caused you to slip into unhealthy activities including extra eating and a sedentary lifestyle. A high-quality diet is good for your physical and mental health. Scientists have proven that physical activity is linked to improved mental health and cognitive function.
Second, stay socially connected
Experts say that "being socially connected can have enormous positive effects on mental health and physical health. Social connection can reduce stress and give one a sense of meaning, purpose and belonging." Living with pandemic restrictions, we need to be very deliberate about our social connections.
Build your circle:
Keep in touch with friends and family. Strengthen your relationships by talking more or sending messages by text or email. If you have a limited circle of friends maybe it's time to make new ones. Consider joining virtual groups based on something that interests you.
Here are some creative ideas on how to stay connected online:
Keep communicating online by sharing posts, interesting stories, photos, gifs, and memes

Get together over a video call. Try having a virtual meal together or ask grandparents to read the kids a bedtime story over a video call. Consider starting a chat group with friends you haven't seen in a while. Popular video calling apps include FaceTime, Google Duo, Whatsapp, Houseparty, Skype and Zoom; on-line tutorials will show teach you how to use each program.

Netflix Party and Facebook's "Watch Party" allow you to watch movies or other content with people in another location at the same time.

Try an on-line organization centered on a common interest – it could be as simple as a Facebook page for your neighbourhood, or an interest group associated with your favourite political party. Interested in French cooking? There's a Facebook group for that. No matter your interest, there is probably a group for you!

Attend an on-line worship service. There are many run by religious organizations in our city, and some have virtual "coffee hours" afterwards

Try taking an on-line course – either furthering your formal education or just taking a class for fun – maybe another language, a photography or cooking course

Many of the world's great destinations are offering virtual tours; connect with a friend and take a virtual tour together.

Exercise with an on-line fitness programs, and have an accountability buddy
Here are other ways to keep connected without your computer:
Get out some stationery and write some old-fashioned letters

Go old school with a long telephone call over a cup of coffee

Arrange for a treat to be delivered to someone with a lovely note attached (maybe flowers or a desert from a local bakery?)

Use your creativity and talent to make gifts for others. It could be as simple as a homemade card, or perhaps baking, or a more elaborate handmade present.

If you are in lockdown with others, enjoy their company. Have a game night or take time to teach life skills like cooking to younger members of your household.
A strong component of staying connected is being involved with your community. Go beyond your circle to help others in need. Extending a hand to our vulnerable populations can help them get through the pandemic.
How to help:
Donate to shelters or food banks
Offer to run errands or grocery trips for elderly or at-risk friends and family.
Volunteer where you safely can. Many organizations need people to continue with operations. Call your local agencies or check out: https://helpnextdoormb.ca/
If you are feeling heightened anxiety and depression, feelings of social isolation or despair, it's time to talk to your physician or use one of the many online or telephone resources. Here are a few:
AbilitiCBT: free and confidential online mental health virtual therapy
https://manitoba.abiliticbt.com/home
Mental Health Crisis and Non-Crisis Regional Contacts
https://www.gov.mb.ca/health/mh/crisis.html
Wellness Together Canada
Canadian Mental Health Association
Good luck!
We aren't sure how long we'll need to stay physically apart, but we hope you'll be able to try out some of these ideas to pass the time in the best way possible. We are apart but not alone.
References:
Brooks, S. K., Webster, R. K., Smith, L. E., Woodland, L., Wessely, S., Greenberg, N., & Rubin, G. J. (2020). The psychological impact of quarantine and how to reduce it: rapid review of the evidence. The Lancet, 395(10227), 912–920. https://doi.org/10.1016/s0140-6736(20)30460-8
Cohen, S. (2004). Social Relationships and Health. American Psychologist, 59(8), 676–684. https://doi.org/10.1037/0003-066X.59.8.676
Mental Health Resources to Support During COVID-19. (2020). Https://Cmhamiddlesex.Ca/. https://cmhamiddlesex.ca/mental-health-resources-to-support-during-covid-19/
Reid, A. (2020, May 16). Worry, Gratitude & Boredom: As COVID-19 affects mental, financial health, who fares better; who is worse? Angus Reid Institute. http://angusreid.org/covid19-mental-health/
Collie, M. (2020, April 11). More than half of Canadians feel lonely, isolated during coronavirus pandemic: Ipsos poll. Retrieved November 9, 2020, from https://globalnews.ca/news/6793214/coronavirus-canada- lonely/
Sliwa, J. (2017, August 5). So Lonely I Could Die. Retrieved November 9, 2020, from https://www.apa.org/ news/press/releases/2017/08/lonely-die