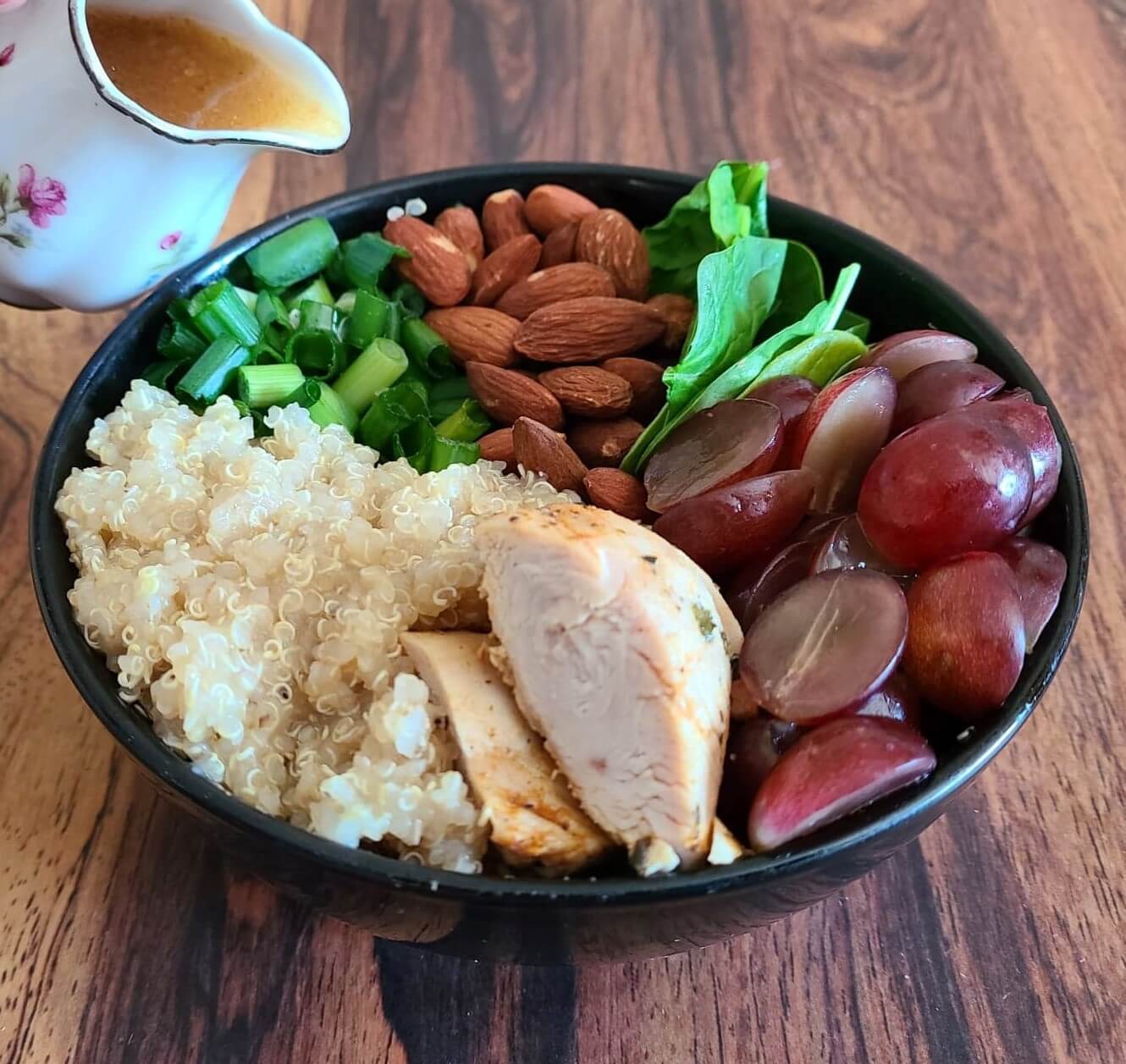 Quinoa Salad with Chicken, Grapes, and Almonds Recipe
By Mariam Ragheb, Dietetic Intern
Here is a healthy and delicious quinoa salad for lunch meals, road trips, or picnics. It is very easy to make, colourful, appetizing and only takes 45 minutes to prepare.
In some cultures, like mine, it is unusual to mix sweet and savory food items together. But when I tried this salad in a restaurant I instantly fell in love and had to recreate it in my kitchen. The combination of flavors and textures are very complementary, and it is a healthy meal that includes protein, fiber, and starch. Enjoy!
Prep Time: 20 minutes Cook Time: 25 minutes Total Time: 45 minutes
Number of servings: 8 side salads (1 serving ≈ 1¼ cups)
Chicken ingredients:
2 chicken breasts, boneless and skinless
2 tbsp olive oil
1 tsp Italian seasoning
½ tsp seasoning salt
¼ tsp paprika
¼ tsp black pepper
Salad ingredients:
2 cups water
1 cups quinoa
2 cups red grapes, halved
½ cup roasted almonds, whole or halved
3-4 cups baby spinach, whole or chopped
½ cup green onions, chopped
Vinaigrette Dressing ingredients:
½ cup extra-virgin olive oil
3 tbsp white vinegar
1 tbsp Dijon mustard
1 tbsp honey
2 cloves garlic, pressed
¼ tsp salt
¼ tsp black pepper
Directions:
Pre-heat the oven to 400 ºF. Toss the chicken breast with olive oil, Italian seasoning, salt, pepper, and paprika. Lightly grease a pan so that the chicken does not stick. Bake chicken breast for 20-25 minutes or until they reach an internal temperature of 165 ºF.
Once baked, slice the chicken breast, and set it aside to cool.
In the meantime, rinse quinoa under cold running water and drain. Combine the rinsed quinoa with 2 cups of water in a medium saucepan and bring it to boil over medium heat. Once boiling, reduce heat and simmer for about 12–15 minutes until all water is absorbed. Once it is fully cooked, remove from heat and set aside to cool for 5 minutes.
In a large serving bowl, combine cut-up red grapes, chicken breast, roasted almonds, baby spinach, and green onions together. Set aside.
In a small bowl, whisk vinegar, salt, and pepper, Dijon mustard, honey, and garlic together. Slowly add in olive oil. Whisk until well blended and set aside.
Once quinoa has cooled, drizzle dressing on the top and toss until mixture is thoroughly combined. Add chicken, grapes, almond, baby spinach, and green onions, and toss again.
Serve at room temperature or chilled, if preferred.