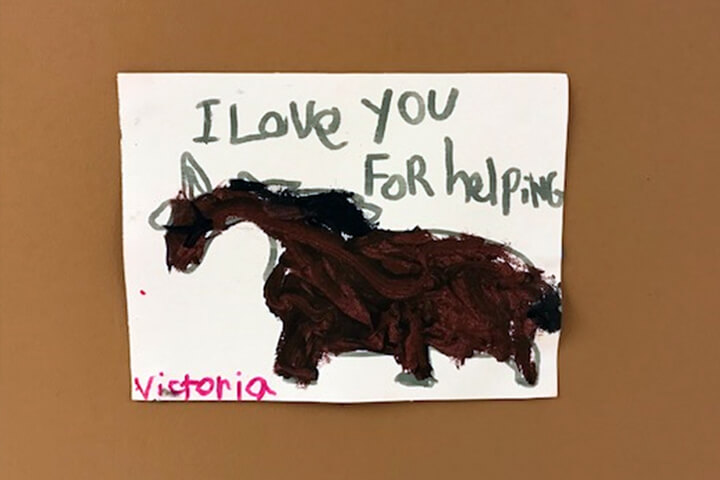 Thank You to Our Community
When Victoria General Hospital moved from Osborne Village to its Pembina Highway location in 1971, it settled into a new role as the community hospital serving South Winnipeg. There have been changes to that role over the years but even now, as an operating division of the WRHA serving patients from across the city, VGH still feels like and operates as a community hospital. There is a strong emotional bond between the hospital and the patients who describe The Vic as "their hospital."
Since the onset of COVID-19, this bond has never felt more powerful. Both the hospital and our partner site, ACCESS Fort Garry, have been overwhelmed by kindness from our community. "It is unbelievable," said chief operating officer Rachel Ferguson. "Almost every day someone has shown us their support and their gratitude! It has been so touching and has had a huge impact on the emotional well-being of our staff."
Acts of kindness have come in many forms. We filled a hallway with children's art designed to lift employees' spirits at the end of their shifts. Aramark, our retail food vendor, provided free Tim's coffee for our staff for two weeks. Both Canada Post and the Winnipeg Fire Paramedic Service did drive-by salutes, and the staff have been serenaded by two different bands. The Snowbirds' fly-by was exciting in the moment and remains a touching memory.
Some believe that food is the language of love. If that is true, we've been very, very loved. Many small restaurants and a local temple have dropped off meals for our staff. Superstore, Vita Health, Bridge Drive-In, Booster Juice, Old Dutch and Mayor Brian Bowman's office have all provided snacks. Maple Leaf brought pork products. One kind gentleman dropped of a Tim's card for staff to have coffee on him. One of the most astonishing gestures was an initiative called From Our Kitchens To Our Heroes, which saw immigrant and refugee communities band together to provide us with over 300 meals over the course of a month. One memorable meal came from the Syrian community along with the message, "You were there for us, now it's our turn to be there for you."
An incredible act of kindness came from the Guild of the Victoria General Hospital. Volunteers from The Guild have been busy sewing cloth masks for our staff to wear when they leave work. They've donated over 500 masks in a wide variety of charming colours and patterns to suit every personality! Staff have been tremendously moved by this generosity that is designed to keep them safe after their shifts are over. A complimentary gift came from two community members who made ear protectors to keep staff safe from the rub of surgical masks behind their ears.
Kindness has also been shown to our patients and families through donations from the Guild and the Victoria General Hospital Foundation. The Guild has supplied patients with activity packs (crossword puzzles, cards and magazines) to keep them busy. They've also donated a steady stream of fun snacks for the patients on our Mental Health units. The Foundation has generously provided complimentary television service to all of our patients, which has been especially helpful during the period of visitor restrictions. They have also funded several iPads that our staff use to help patients video chat with their loved ones. Through Foundation connections, we've also received discharge care packages from Walmart to help patients without much community support.
These are just some of the acts of generosity we've experienced. Each gesture has been appreciated and has made our journey through the pandemic easier. Collectively they have been the silver lining in the storm. We know COVID-19 isn't behind us yet but right now we have a chance to catch our breath and we just want to take a minute to thank every individual and business in our community who has made us feel respected, supported and appreciated. Thank you from the bottom of our hearts!